Settings
In the Settings area you can set all parameters of your Team's Geenodes™. Depending on your role in the team you will have different permissions in here.

Overview
By default the Overview is opened. A cockpit overview shows you the storage usage, number of timestamps left and the user balance for your team. These parameters are set by the system admin for your Geenodes™.

The system admin can adjust these parameters from outside your team's Geenodes™. He does not require access to perform these actions. This is an important part of the Geenodes™ privacy management principles: privacy by design and privacy by default. Nobody without consent from users inside the Geenodes™ can access the vault.
Group settings
This area is reserved for your Team's Geenodes™ so called Super Admin. The user having this role can adjust the group settings and its branding, the look and feel.

Group settings:
Avatar: The generic image every user within your Team's Geenodes™ gets by default. Team members can always change this into a personal avatar.
Name: The name shown in the top bar.
Geens#ID: This is the #reference every profile in your Team's Geenodes™ gets following the user's chosen profile name.
Branding:
Square logo: This is the logo used at the bottom, next to your team member name.
Rectangle logo: This is the logo at the top of the side menu.
Login logo: This logo is shown on the login window.
Colour settings: You can change the theme colours to match your team's brand style. You can either pick a colour or enter the hex code for your brand colour.
Profile settings
Your profile is an important part in Geenodes™ privacy management. As an individual you have various roles in both your personal and your working life. In any of your roles you want to be in control over your data without the risk of making data available for unwanted parties. Within Geenodes™ you have one profile with various Geens#ID for your various roles all linked to this profile.

For example, if you have to do work in the role of team member for client A, you switch to the Geens#ID you#clientA. You now switch to this team's Geenodes™ and you now have access to all your personal and team data for client A. This ensures an easily workable but strict separation of work. This is an implementation of our pervasive Geenodes™ privacy management: privacy by design and privacy by default. This strongly reduces the risk of accidental security breaches.

In your Profile settings area you can do following. Remember that some settings may not be changed by you depending on the permissions of your role as set by this Geenodes™ Super admin.


My Profile: Change some of your basic profile settings, like email address, your full name and linking your other Geenodes™ profiles.
Set up account: Change your Geens#ID, add your position.
Change password: Geenodes™ privacy management fully protects your password. It is immediately encrypted and stretched locally to ensure no eavesdropping techniques can intercept your password.
2FA: You can add extra security by enabling two-factor authentication on your account.
Log out all devices: This action will end all sessions you have for this Geens#ID on any other device except for the current session you are working from.
Dashboard settings
Here you can set your default settings for your personal Geenodes™ environment.

Email notifications: You will receive notifications when changes are made to your data. So you can keep track of activities on your data in your various Geens#IDs.
Sort items by: Default sorting attribute for items that are shown in the content area.
Sorting order: Default sorting order for items that are shown in the content area.
Language: Here you can change your display language. Currently following languages are available: EN - English, FR - Français, NL - Nederlands, LT - Lietuvių, DE - Deutsch, JP - 日本語
Timestamps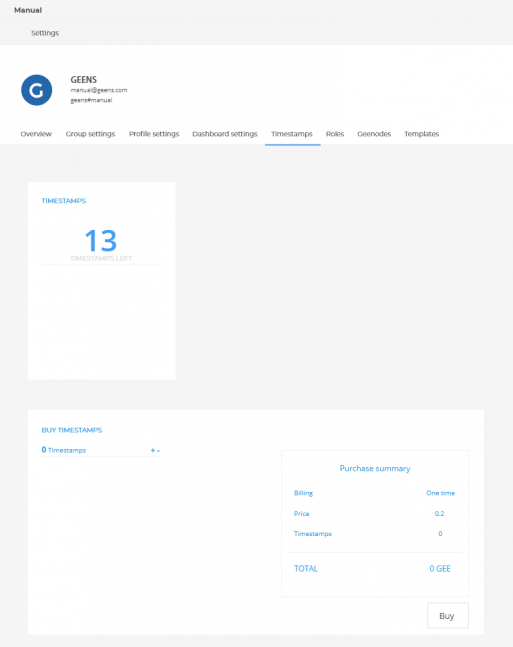 As described in this section, timestamping documents will generate an extra layer of trust for your data files and documents. The unique fingerprint combined with the proven blockchain timestamp, will be proof your documents exact content and existence any time in future.

Here you can add timestamps to your team's Geenodes™ by buying these with the Geens internal utility token GEE. When your balance is not sufficient you can ask your Super admin or System admin to acquire extra GEE.

Roles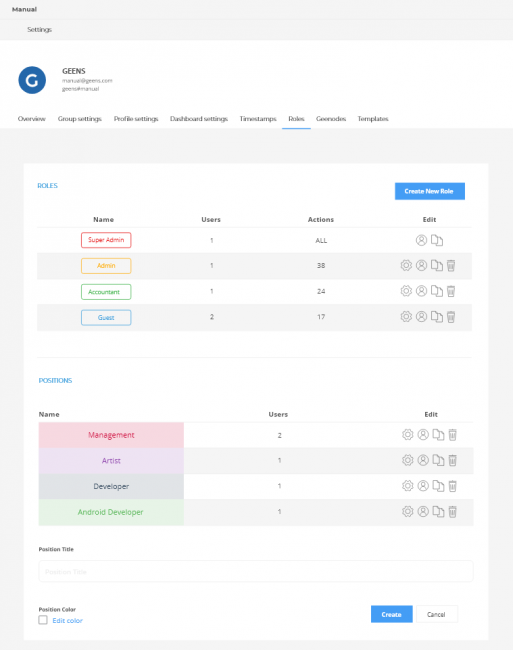 This area defines the various roles and positions for this team's Geenodes™ and is available for the Super admin.

Roles define the permissions of the various team members. The Super admin can create new roles from scratch or by making a copy from an existing role. More information about the various permissions can be found in the separate instruction for the Super admin: Using roles and positions in your team's Geenodes™.

Positions can be used in the team to identify or label team members to clarify their position in a team. For example: Project Manager, Client manager, Finance manager. These functions may have identical permissions = roles, but have different functional activities.

Roles and positions are shown with the team members in the team overview.

Geenodes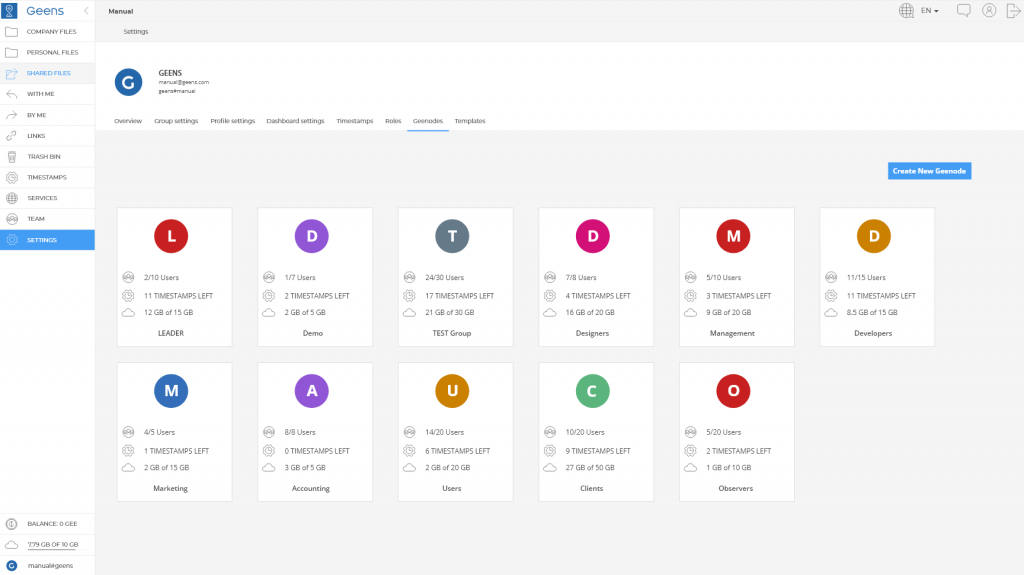 Geenodes™ are designed so you as an entity can easily create new team Geenodes™ within your own secure area in the cloud. Within these new Geenodes™ you can even create a new level of Geenodes™. You can create your own network of fully secure nodes that are all linked within your own top level Geenodes™.

For each member you create one profile using an email address. Then you can create for this profile various Geens#IDs to have members switch safely between the various Geenodes™. Your top level Geenodes™ also is part of a larger network of nodes. All nodes together make up the Geens platform. All parts of the Geens platform are developed according to the Geens NPO privacy management principles: privacy by design and privacy by default. Full end-to-end encryption and zero-knowledge principles are pervasively implemented starting from the core of the platform. Data sharing can be done safely amongst all members of the Geens NPO platform. The immutable logging of data activity creates extra accountability and enhances the awareness of members behavior in the platform.

In this area you get an overview of all created Geenodes™ and their status. You can also create new current Geenodes™.

For more information about Geenodes™, we refer to the separate instruction: Super admin: How to use Geenodes™.
Templates
Templates are standard documents with a predefined format and layout. All available templates within your Geenodes™ are shown here. This oversight helps you manage the various templates and version that exist.


TIP! Templates that have been created in one Geenodes™ can easily be forwarded to another, same level, Geenodes™ making it possible to reuse templates across all Geenodes™.
See it in action!